Best of Breed
Allos acts as Technology Advisor to support you in the choice of systems to support your HR Transformation, adopting specific Best of Breed solutions as reference technologies.
Our Quality Assurance Managers allow you to describe the objectives you want to achieve and outline the context in which you operate, including core business, company size, compliance needs and organizational figures to be satisfied with the project, in order to design innovative models and solutions for HR process management.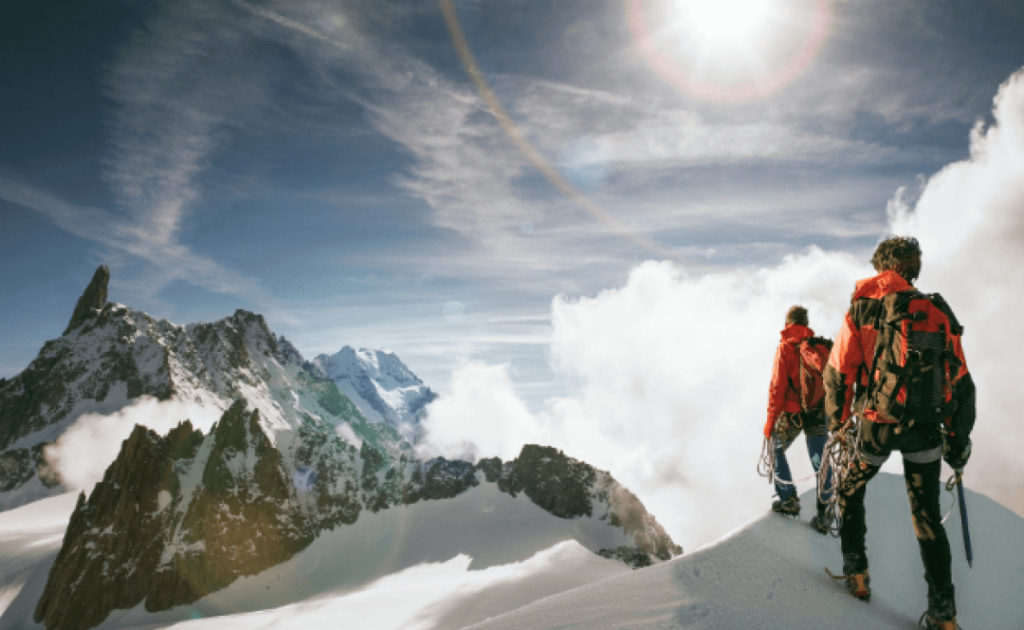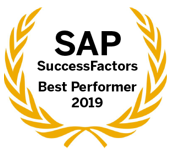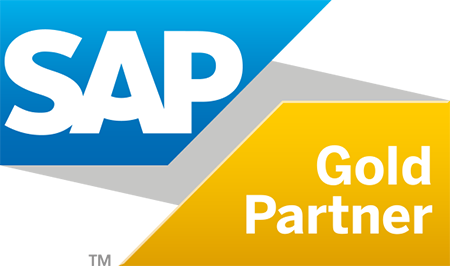 ENTERPRISE RESOURCE PLANNING
SAP
SAP is the world's leading cloud management software company. Allos has been a SAP partner for over 10 years and a Gold Partner since 2015.
Why did 200 million cloud users choose SAP? Smart technologies, leadership in all business processes and four decades of innovation.
91% of Forbes Global 2000 companies are SAP Customers, and over 200 million cloud users rely on SAP solutions in 180 countries.
SAP guarantees absolute data security and has chosen a collaborative multi-cloud strategy that puts customers first, forging partnerships with hyperscalers such as Microsoft, Alibaba, Amazon, Google, IBM and other leaders.
Do you think SAP is only for large companies? In fact, 80% of SAP customers are small and medium-sized businesses. Through SAP technologies, Allos has also created vertical HR solutions for industry to support the growth objectives of midmarket companies, to guide the People Strategy and achieve more with well-defined times and resources. Discover our # AllosHR4Industry solutions: strategies and tools correctly sized, designed specifically for growing companies.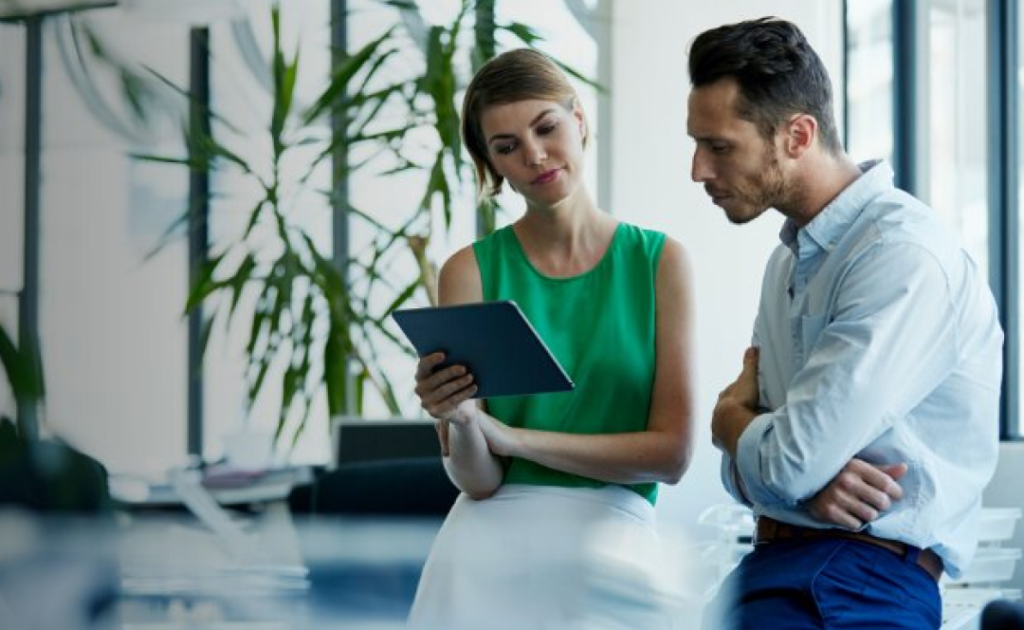 HUMAN EXPERIENCE MANAGEMENT
SAP SuccessFactors HXM
SAP SuccessFactors is the Human Experience Management Suite in Cloud that enables HR Transformation programs, for all those organizations wishing to strategically orient the added value that each person can bring, at any level.
Allos, a pioneer of the Cloud and HCM solutions for the management of Human Capital, has chosen SAP SuccessFactors as the reference technology and with it has already carried out hundreds of successful Digital HR Transformation projects.
Allos' experience, with SAP SuccessFactors HXM Suite, enables the transition from transactional human capital management (HCM) to 360-degree employee experience management, creating a more flexible and engaged workforce and a more resilient company.
SAP SuccessFactors has over 160 million end users, localized in over xx languages, allows you to manage the entire lifecycle of collaborators and create Digital Workplace environments (SAP Work Zone for HR) to put them at the center of every activity of the organization, strengthening engagement, performance and profits.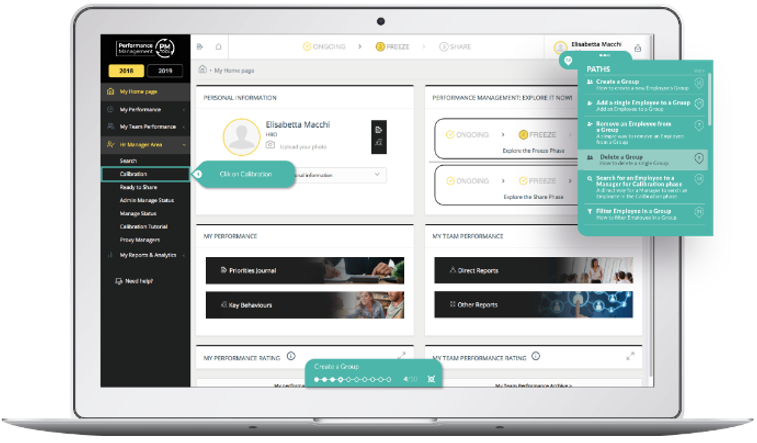 DIGITAL ADOPTION AND EXPERIENCE MANAGEMENT
myMeta
myMeta is a Digital Adoption solution that acts concretely both as a guide for the user and on the Employee Experience.
Support in the adoption of new or existing digital systems becomes contextual and passes through a digital guide incorporated into your applications.
It is an independent and autonomous but perfectly versatile software, to the point of becoming the second skin of any platform or web application:
optimize the user experience and get a ready-to-go, intuitive and guided solution
allows you full coverage of requirements, without compromise or workaround
0% need for training -> 100% processes completed correctly and on time.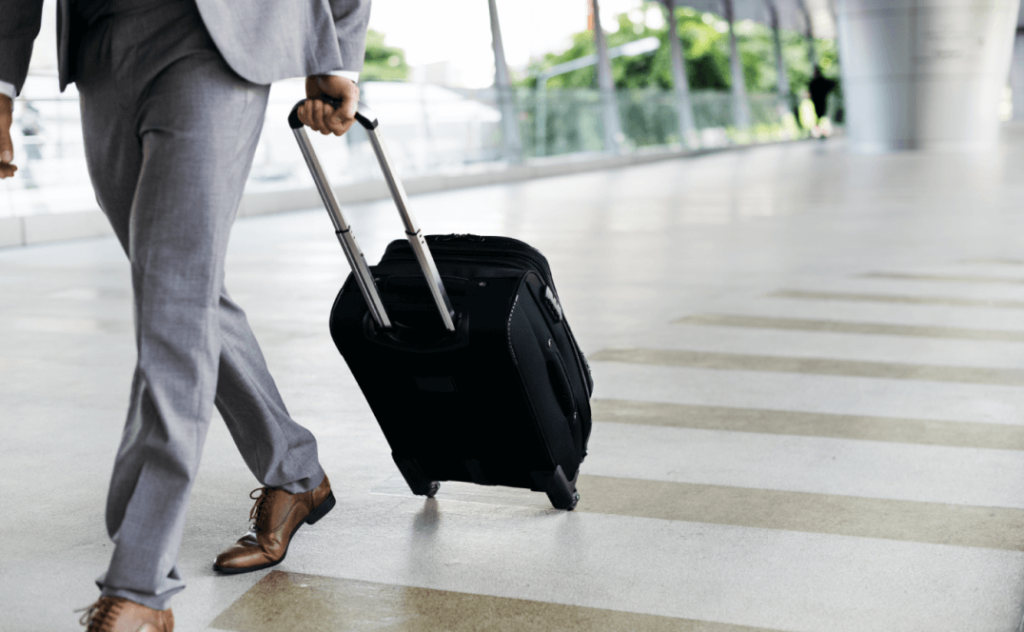 TRAVEL & EXPENSE MANAGEMENT
SAP Concur
AP® Concur® is the world leader in the integrated management of Travel & Expense processes.
Allos is a SAP Concur Reselling Partner (the first in Italy), Concur Implementation Partner (CIP) and Concur Consulting Partner (CCP).
SAP Concur solutions allow Allos to offer significant added value to its customers by supporting them in the challenges related to Spend Management, strengthening the Digital HR Transformation strategies of the processes related to the Employee Experience, in full integration with the SAP and SAP SuccessFactors offer.
SAP Concur is a powerful platform that enables better management of expense reports, enabling truly interconnected process and cost control in a simple, compliant and transparent way.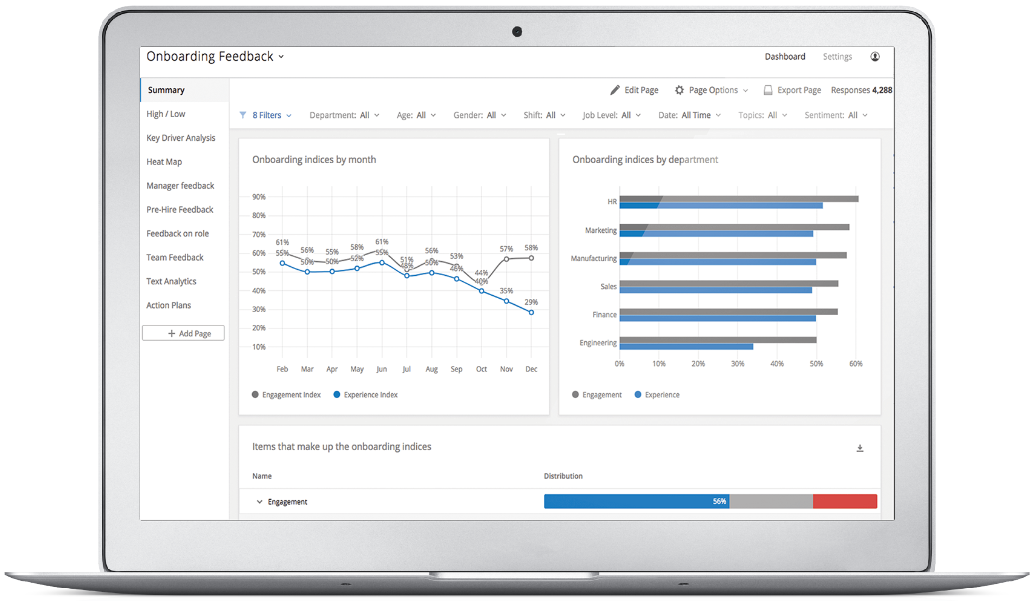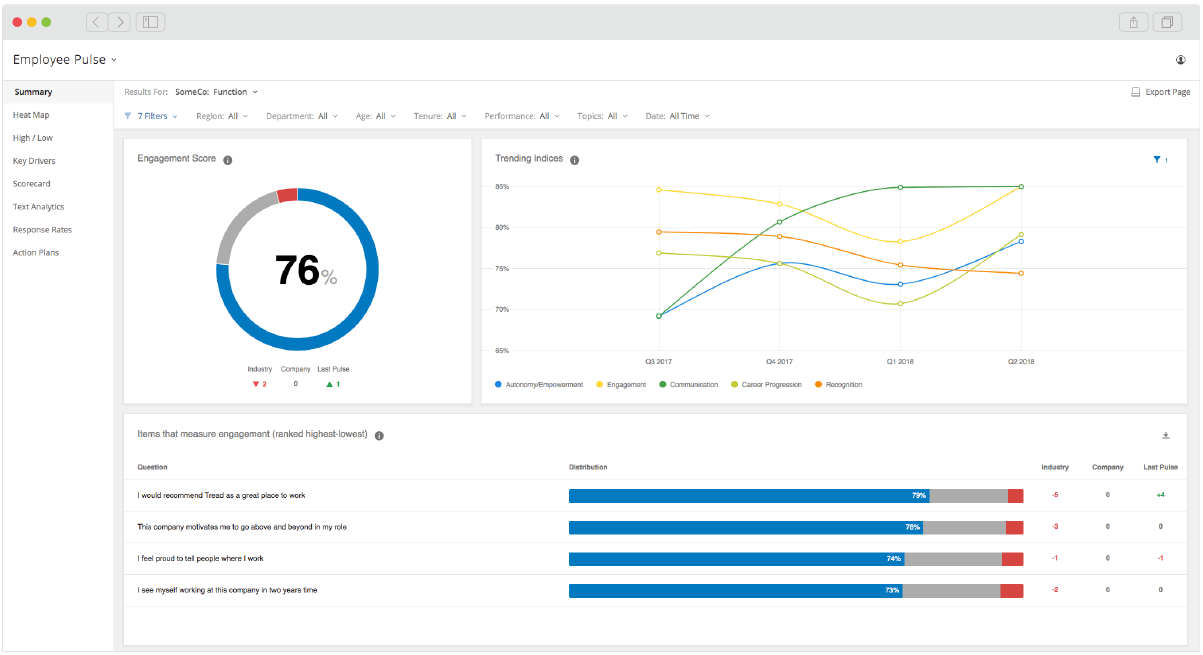 EXPERIENCE MANAGEMENT (XM)
Qualtrics
La ricerca costante di soluzioni per il miglioramento della Employee Experience è da sempre uno dei principali driver di Allos.
Qualtrics è la soluzione leader nel campo della Experience Management ed Allos attraverso Qualtrics abilita nei clienti i processi di monitoraggio delle interazioni che i collaboratori hanno con l'organizzazione, per raccogliere dati e informazioni utili al miglioramento della Employee Experience.
Cos'è l'Experience Management? E' un processo che consente di ridurre il gap tra l'esperienza percepita da chi progetta la soluzione HR ed il reale percepito da parte degli utenti finali ovvero i collaboratori.
Le imprese di successo si avvalgono di progettualità XM per colmare questo gap.
Per decenni, le aziende hanno fatto affidamento sui dati operativi (O-data) - numeri concreti come costi, contabilità e vendite - per sostenere le decisioni aziendali. Ma gli O-data ti dicono solo cosa è successo, non ti dicono perché.
Per capire perché le cose accadono, è necessario comprendere i pensieri e le emozioni delle persone coinvolte. Chiamiamo queste informazioni dati sull'esperienza (X-data).
Un software di gestione dell'esperienza come Qualtrics ti consente di combinare O-data e X-data per garantire che ogni decisione aziendale si basi sia sui fatti che sui dati dell'esperienza.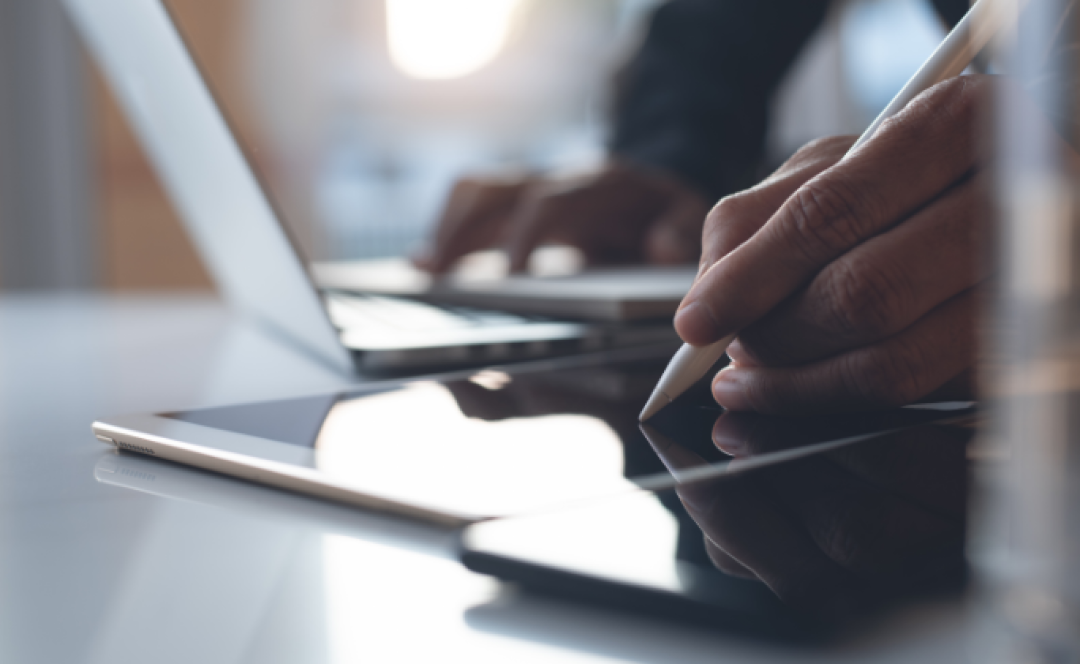 DIGITAL TRANSACTION MANAGEMENT
DocuSign
DocuSign è la Soluzione cloud leader di mercato globale per la firma elettronica e digitale, ovvero, è un Digital Transaction Management (DTM) che consente la gestione delle transazioni basate su documenti elettronici e che si integra end-to-end con i sistemi digitali esistenti.
Allos inserisce DocuSign come soluzione di riferimento ad esempio per tutta la gestione delle fasi di agreement legate ai processi di Recruiting, OnBoarding, OffBoarding.
Riduci i costi, risparmia tempo e migliora l'Employee Experience fin dalle prime interazioni con le tue Persone, proprio come loro si aspettano, offrendo un'esperienza digitale ottimizzata anche per i dispositivi mobili.
DocuSign eSignature ha referenze in 180 paesi e consente di firmare accordi in 44 lingue e inviarli in 14.
Oltre 500.000 aziende nel mondo sfruttano DocuSign per ridurre i tempi ed i costi dei passaggi manuali legati alla gestione della documentazione tradizionale e per risparmiare carta, fornendo un contributo agli obiettivi di business sia in termini di produttività che di sostenibilità.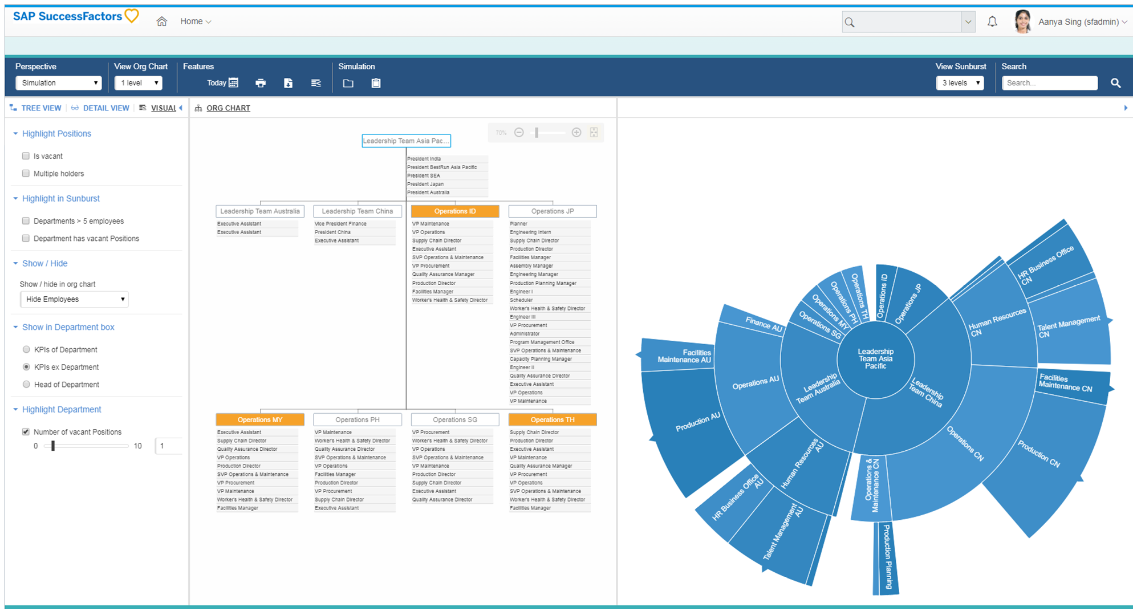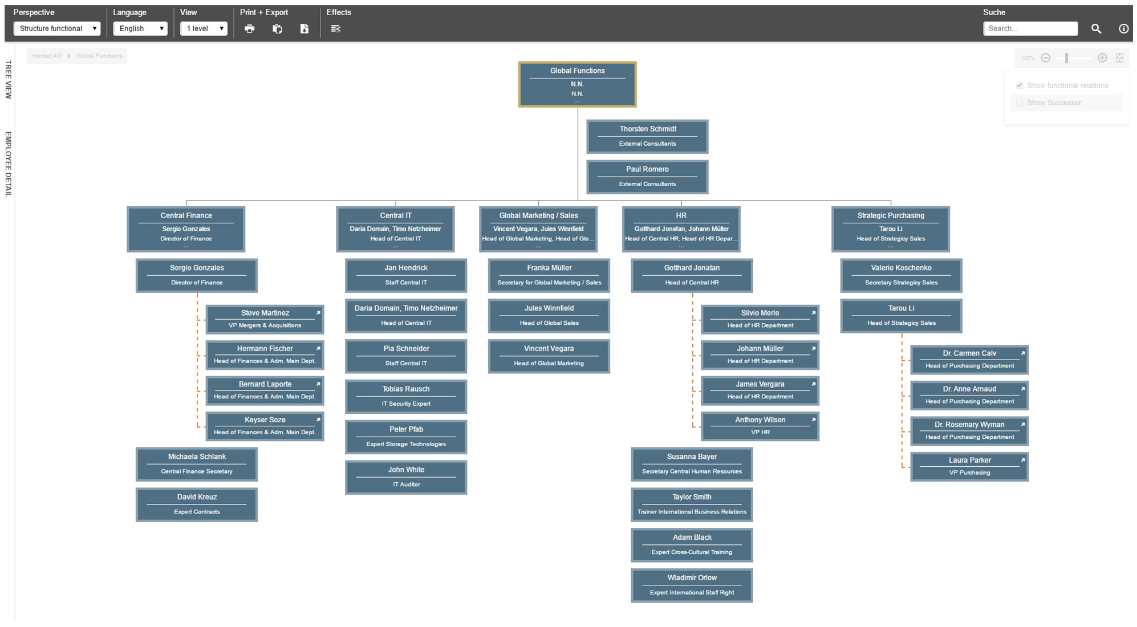 ORG-CHART
Org.Manager – INGENTIS
Org.Manager è la suite di Ingentis dedicata alla creazione e modellizzazione di organigrammi personalizzati.
Allos è partner di Ingentis dal 2017 e continua a scegliere le soluzioni software della Suite org.manager per rispondere alle esigenze legate alla gestione degli organigrammi all'interno delle progettualità di HR Transformation.
Org.Manager consente di visualizzare qualsiasi struttura organizzativa sulla base dei dati HR da ogni fonte dati, in particolare SAP HCM e SAP SuccessFactors o qualsiasi database, directory e flat file. A ciò si aggiunge la possibilità di realizzare simulazioni, creare scenari "what if" e modelli di workforce planning, garantendo la massima flessibilità in termini di design, contenuti e layout.
La maggior parte delle Aziende affronta continuamente la necessità di riprogettarsi -del tutto o in parte- in funzione dell'andamento del business, in particolare per le Risorse Umane diventa necessario consentire ai dipendenti di essere più reattivi.
Ingentis org.manager è il software ideale per aziende di medie e grandi dimensioni, soprattutto nelle fasi in cui è necessario conoscere a pieno la propria Organizzazione per attuare iniziative di riprogettazione in chiave resiliente.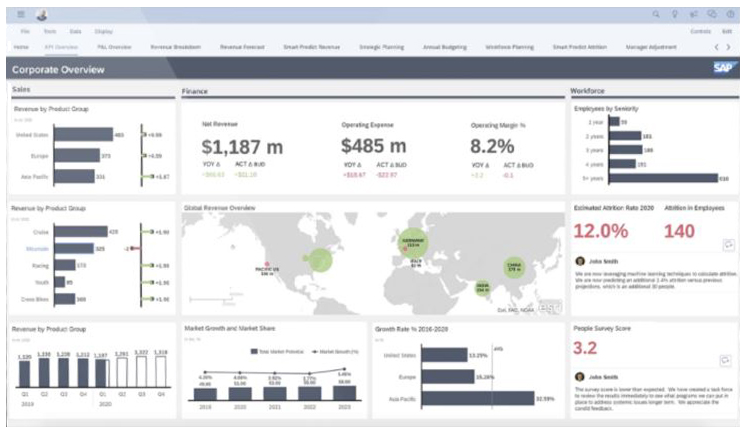 BUSINESS INTELLIGENCE - HR ANALYTICS AND PLANNING
SAP Analytics Cloud
Con SAP Analytics Cloud metti le Persone al centro della trasformazione, combinando e analizzando i dati provenienti da HR, Finance, Experience Management e da molte altre fonti di dati, abbattendo i silos e abilitando decisioni informate e proattive.
SAP Analytics Cloud integra funzionalità di Business Intelligence (BI) e di analisi di pianificazione, predittiva e aumentata in un unico, semplice ambiente sul cloud. Supportata dalle tecnologie di AI e da un database in-memory, è una delle soluzioni analitiche più avanzate attualmente disponibili.
Allos sviluppa le progettualità di HR Intelligence con SAP Analytics Cloud e crea un'unica User Experience end-to-end integrata in SAP SuccessFactors.
In particolare è possibile sfruttare gli insight generati attraverso la soluzione SAP Analytics Cloud Embedded edition in SAP SuccessFactors attraverso una gestione degli accessi basata sui ruoli e sulla privacy, oltre a garantire continua protezione dei dati incentrata sulle persone.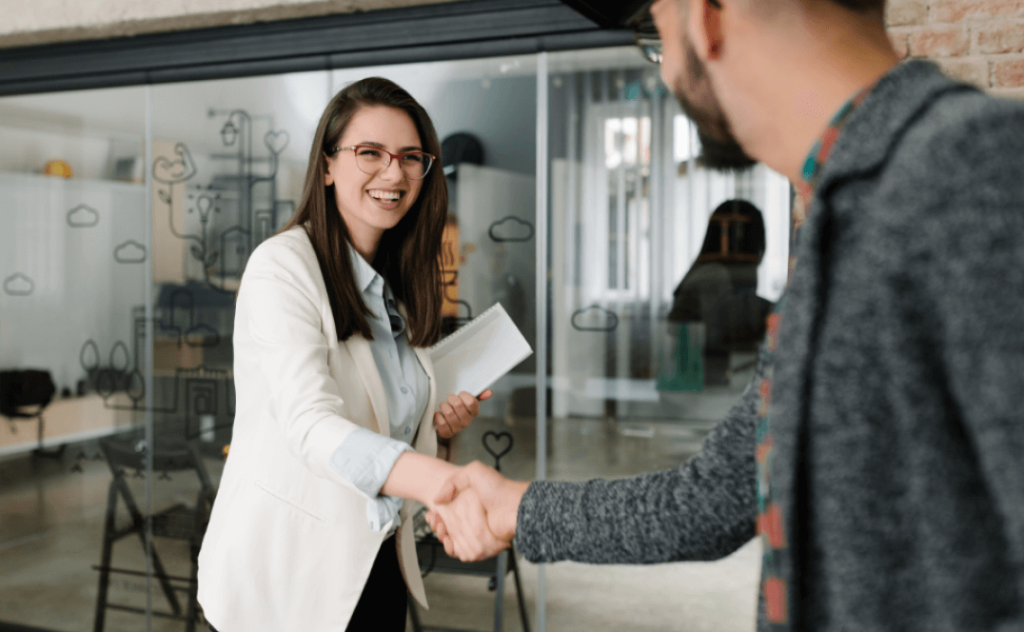 DIGITAL RECRUITING
EasyRECrue
EASYRECRUE is a SaaS platform dedicated to the Talent Experience that provides specific tools dedicated to supporting human resources in recruiting processes.
Allos can integrate Easyrecrue with SAP SuccessFactors to meet the needs of those customers who need a specific tool to assess the skills of candidates quickly and efficiently, especially in the presence of large volumes of applications to manage.
RELATED CONTENT
Find out our Exclusive Solutions
In our HR innovation laboratory we analyze, experiment and then adopt innovative technologies to enhance and extend the processes and functionalities provided to HR.
Do you want to deepen with Allos?
To contact Allos you can fill out the form or write to hrinnovation@allos.it
Are you looking for a partner who can support you in choosing the systems to support your HR Transformation?

We will start from your needs, to help you design your Digital HR Transformation path, with an eye on innovation and improvement of the Employee Experience!

Find out how to achieve your goals with Allos, contact us!